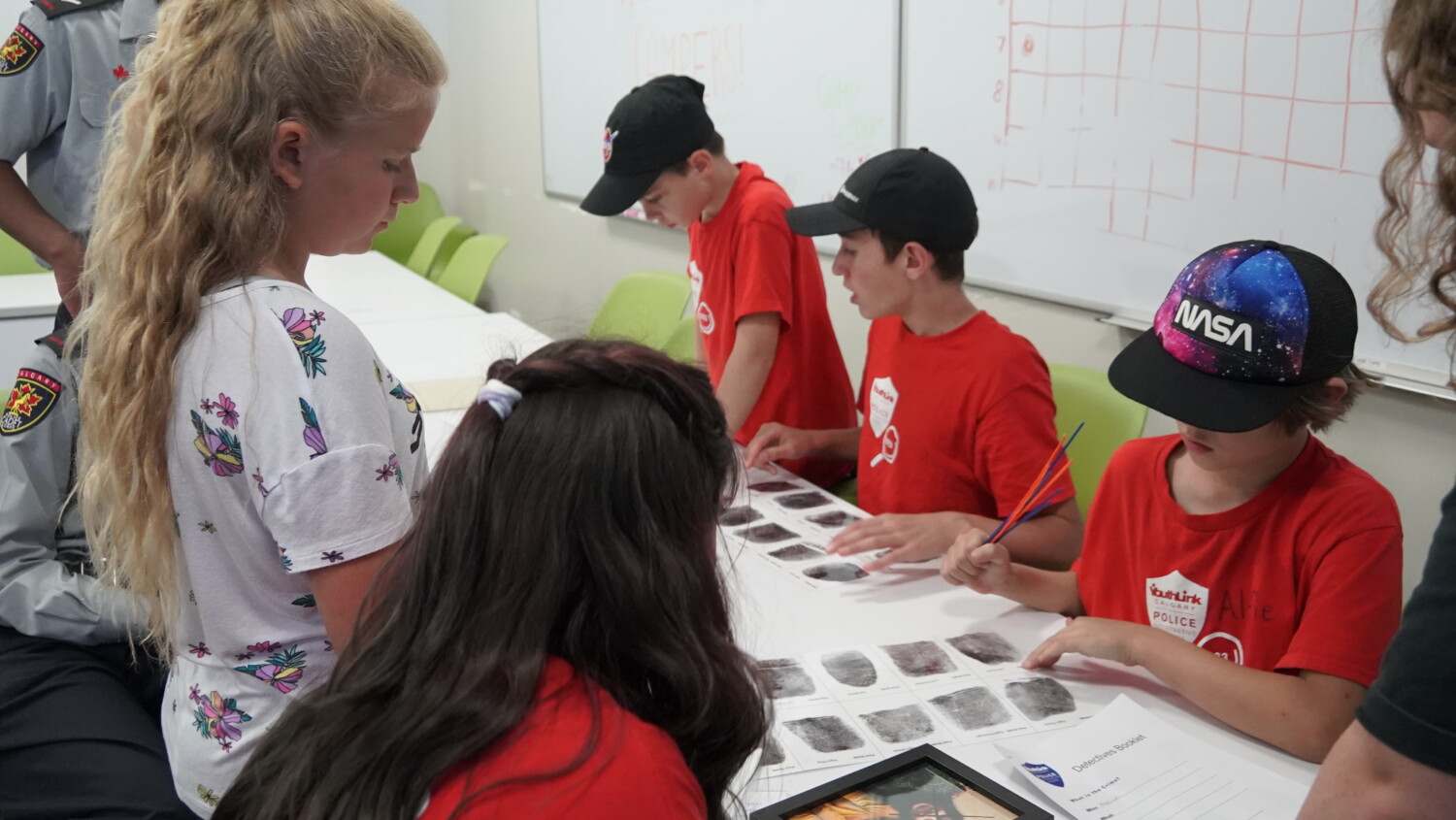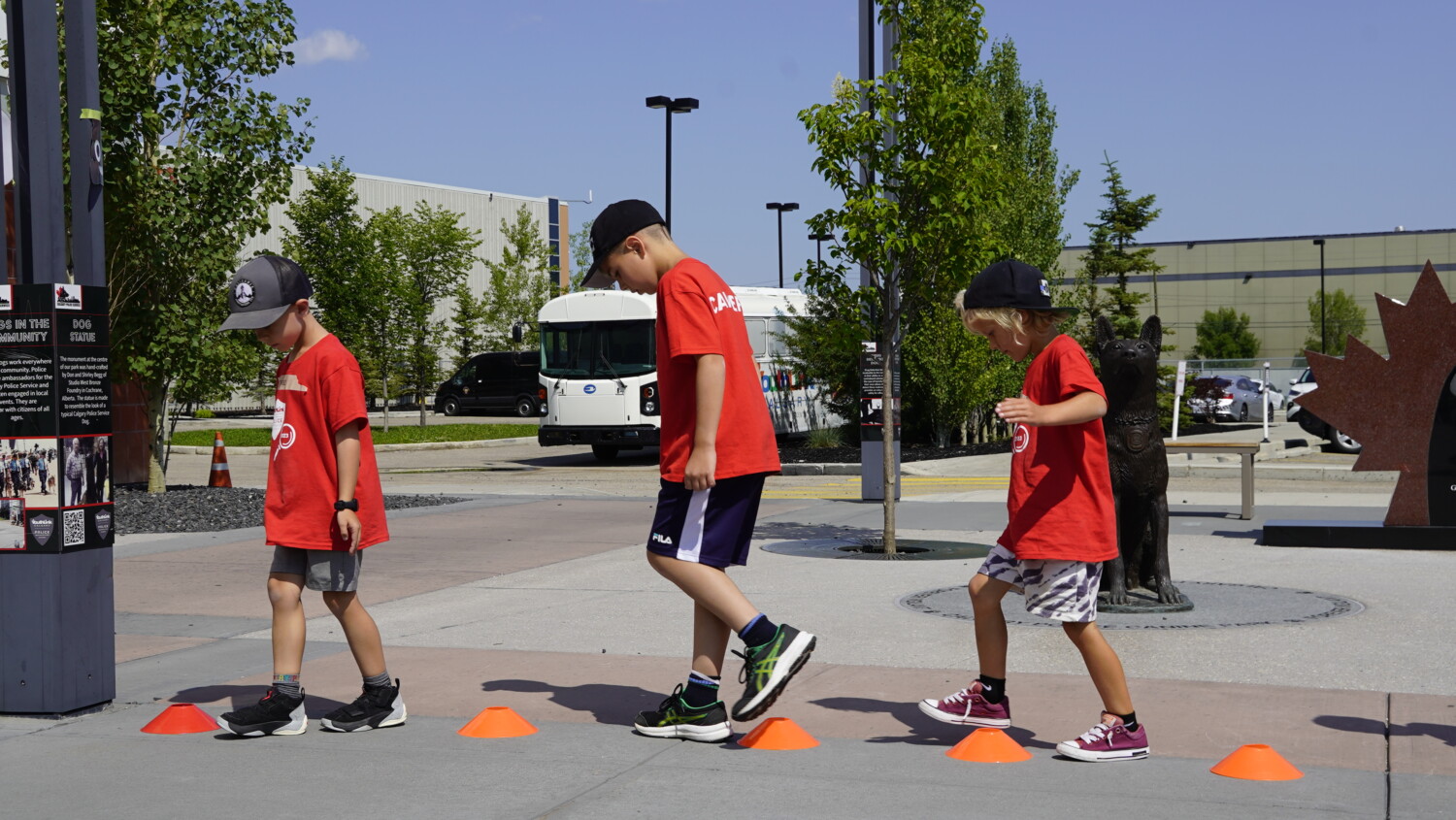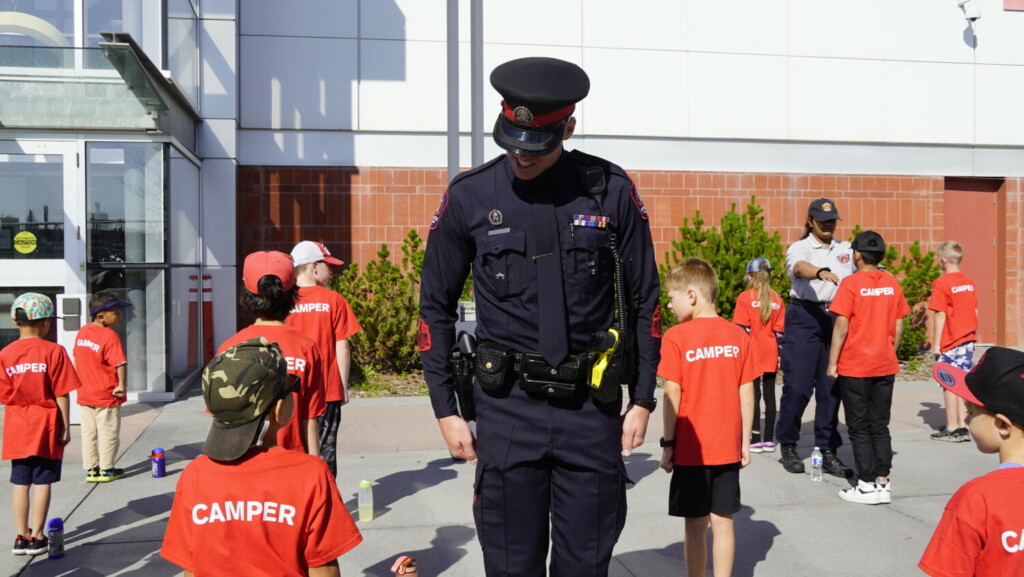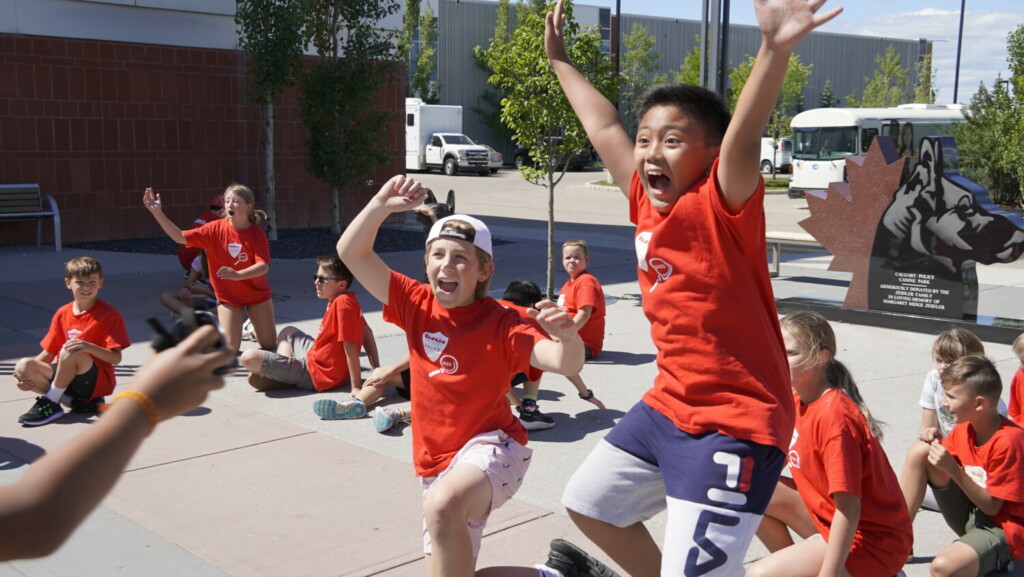 2024 SUMMER CAMPS
With 2023 summer camps coming to a close, our team is hard at working creating the 2024 camps. Check back in for more details!
Our camps provide the most VIP police experience possible. Campers will get an all-access pass to our museum and exhibits, experiments with forensic science and crime-solving, participate in team-building game, and get behind the scenes experiences with Calgary Police Specialty Units (schedule dependent).
CALLING ALL SPECIAL UNITS!
Did you know the Calgary Police Service uses specialized tactics, resources, and tools to resolve high-risk incidents? Come and learn more about our Tactical Team, HAWCS helicopter, the K9 unit, and even the Mounted Patrol Unit! In addition to all the policing fun the week will include: lots of games, fun activities, and exploration of the museum.
Do you like to learn, try new things, and sometimes get a little dirty? Come get up close and personal with Forensics and learn if you have what it takes to solve crimes! This is a hands-on, forensic science-filled week, including experiments, blood spatter art, and ballistic obstacle courses. In addition to all the forensics fun the week will include: lots of games, fun activities, and exploration of the museum
Police commonly use science, technology, engineering, art, and math in their jobs. Come and join this hands-on week of learning more about police using STEAM! In addition to all the policing fun the week will include: lots of games, fun activities, and exploration of the museum.
Are you a budding first responder eager to learn more about how our paramedics, police, and firefighters work to save lives? Your time is now. Through communication and teamwork techniques, learn skills to help others in need. In addition to all the policing fun the week will include: lots of games, fun activities, and exploration of the museum.
THE DETAILS
4 AND 5 DAY CAMPS || 9:00AM TO 4:00PM || ALL SUMMER LONG!
4 Day Camps: $252 + taxes and fees.
5 Day Camps: $314 + taxes and fees.
Before (8:00AM to 9:00AM) and After (4:00PM to 5:00PM) Care options available for an extra cost.
Bagged Lunch option (through our partners at The Bistro by Roma Catering) available for an extra cost.
2023 REGISTRATION
2023 CAMP REGISTRATION IS CLOSED.
6 TO 8 CAMPS: SPACES AVAILABLE || 9 TO 12 CAMPS: SPACES AVAILABLE
WAITLIST
Is the camp week you're interested in full? Join our cancellation waitlist!
Email the following information to: youthlink@calgarypolice.ca
The name and age of your potential camper.
What camp weeks you are interested in.
The best e-mail address to reach you at.
SUMMER CAMP FAQ
What happens if my camper is absent or arrives late to camp one day?
Please call our Youth Programming Specialist / Camp Lead at 403-428-8679 or our Front Desk at 403-428-4530.
Where is the camp located?
Our camp is located at YouthLink Calgary, next to Calgary Police Service Headquarters (5151 – 47th Street NE). You can find parking by accessing the open gate through Entrance 3.
Is YouthLink a nut-free facility?
We strive to be a nut free facility. We ask that all packed lunches and snacks are nut free. However, some campers may show up with a peanut butter and jam sandwich or have eaten peanut butter for breakfast before attending camp. If you camper has a peanut or nut allergy please let the camp staff know.
What is your refund policy for camp?
Our policy is a full refund with the notification of a full week (7 days) before the start date of camp. Refunds for cancellations with less than a week's notice will be evaluated on a case-by-case basis by the Camp Supervisor and Bookings and Analytics Coordinator. We will charge the full camp fee for no-shows on the first day of camp..
What are the drop-off and pick-up guidelines?
At Monday morning drop-off, we will ask you to provide a pick-up password. At every pick-up, our camp leaders will ask you, or whomever is picking up your camper, to ensure that your camper is going home with trusted adults. Please inform anyone who will be picking up your camper of this password policy to avoid any delay. If an adult cannot provide the password upon pick-up, we cannot permit the camper to go home with them until we have contacted a guardian.
When is drop-off and pick-up times?
Drop-off is between 8:45AM and 9:00AM. Pick-up is between 3:30PM and 4:00PM. The YouthLink parking lot (Entrance 3) is open for drop-off from 8:30AM to 9:15AM and from 3:30PM to 4:15PM for pick-up.
What if I am early to drop-off or late to pick-up my camper?
If you have not pre-purchased before and after care and your camper is dropped off or picked up outside of regular hours, you will be charged for before and after care attendance at the end of the week. This charge is $10.00 applied through your booking per early drop-off or late pick-up.
Do you offer a lunch option?
Yes, we are offering a lunch option this year.
You must pre-purchase lunch before camp, and we offer it as a week-long option only. Lunch will be provided by our partners at Roma Catering and will include a sandwich, veggies and dip, a cookie, a granola bar, and a juice box.
What does my camper need to bring to camp?
Camp shirt (this will be provided on the first day of camp)
Hat
Sunscreen
Bug Spray
Raincoat
Light jacket or layer
Runners / sneakers (rain boots on rainy days)
Contained nut-free packable lunch with at least two snacks (campers get hungry)
Full Water Bottle
Medications (Inhalers, Epi Pens, etc.) – clearly labelled and in the original packaging
Quiet time item: book, colouring supplies, puzzle book, etc.
Thursday only: please be prepared for the Prairie Winds Spray Park and Wading Pool with a change of clothing, towel, and sandals (weather permitting)
What does my camper not need to bring to camp?
Personal electronics or cell phones
Personal valuables that the camper does not wish to lose
Flip flops or sandals (with the exception of Thursday)
Restrictive clothing, i.e. dresses, skirts
Nuts or nut products in lunches or snacks (we strive to be a nut free facility)
Does YouthLink have a lost and found?
Yes, we do have a small lost and found available at the facility. Please reach out to our Camp Supervisors at 403-428-8679 or to our Front Desk at 403-428-4530 with a description of the lost item. We will donate items to charity if not claimed them by October 1, 2023.
Can my camper purchase items at the gift shop?
We ask that campers refrain from visiting the gift shop until Friday of their camp week. Starting after Camp Graduation, we invite campers to visit the gift shop once they have been signed out of camp. The museum closes promptly at 4:00PM on Fridays
What if my camper has medication they need to carry?
If your child requires any prescription medications (including Asthma Inhalers) or carries an Epi Pen, please let your camp leaders know on Monday morning at check-in. All prescription medications, that campers need to carry must be discussed with camp staff at check-in. Prescription medications must be in the original pharmacy packaging, labelled with the patient's name and the physician's ordered dose on the bottle (pills in Ziploc bags or other packaging are not permitted). Unless otherwise specified by a parent or guardian, camp leaders carry all camper prescriptions.